Ultralight Matte Box System
BaseCamp is an ultralight filter system that offers professionals precision control over the light entering their camera lenses. It was built around a new filter format that is thinner, lighter, and more durable than legacy filter designs, which have remained unchanged since the early days of the film industry. The system's tool-less operation and rugged unibody structure provide an optimized workflow for run and gun filmmakers who prioritize focusing on the shot, not their setup.

​​​​​​​
BaseCamp is the lightest and most rugged matte box in its class. It attaches to lenses of up to 114mm outer diameter and is capable of holding two BaseCamp Filters: an independently rotating circular filter in the back slot and a rectangular filter in front slot. An external knurled ring rotates the internal circular filter, typically a polarizing element, to dynamically adjust to changing lighting conditions. A nylon hood attaches to the front of BaseCamp's core for additional light control over flares.
Aluminum, Stainless Steel, Quartz Glass, Acetal Copolymer, Nylon 66, Carbon Fiber, TPE, Silicone, 3M Adhesive Tape
CNC Milling, Injection Molding, Anodization, Laser Etching, Aluminum Extrusion, Die Casting, Water-Jet Cutting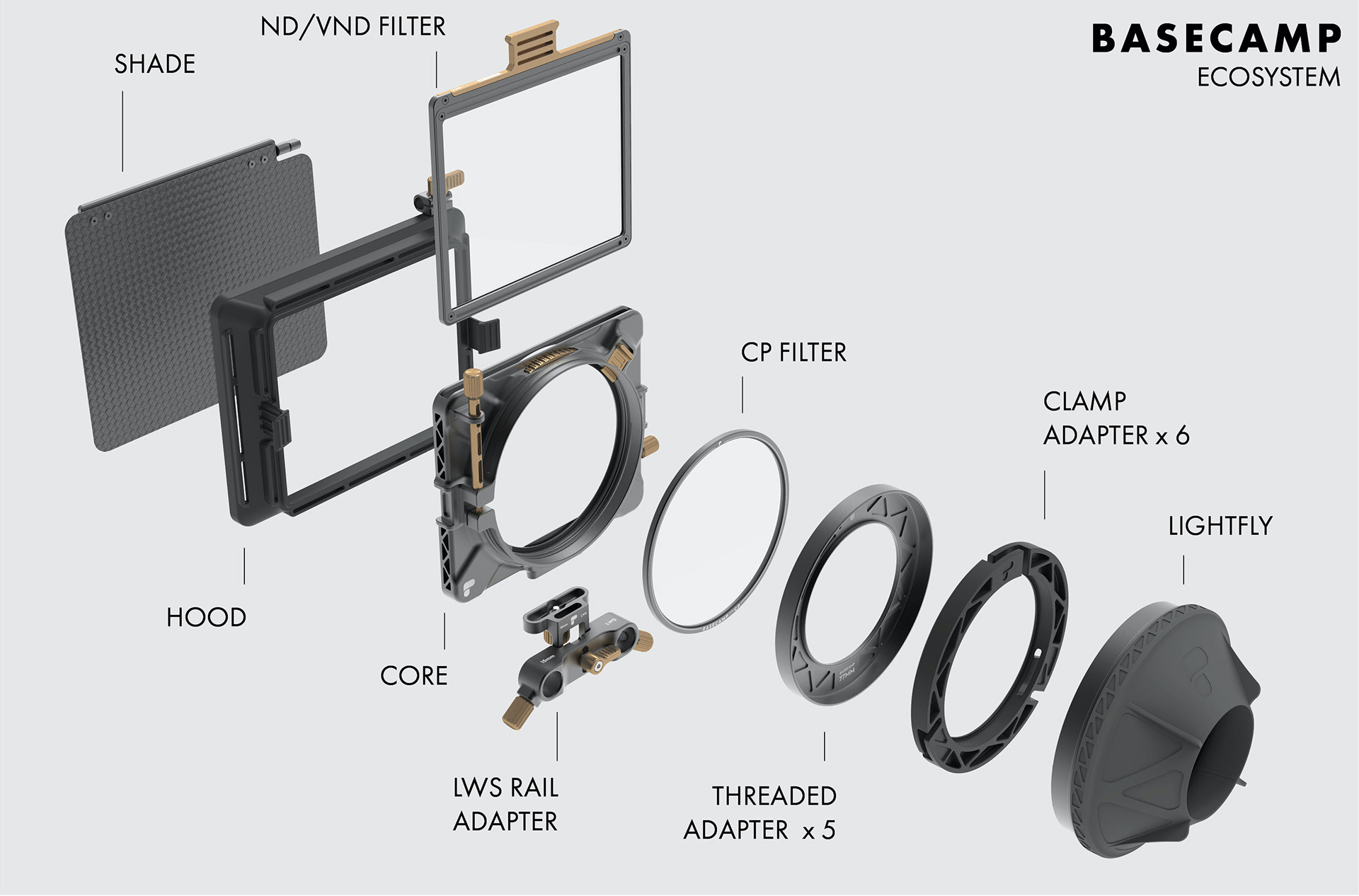 The hood for BaseCamp incorporates a single piece of injection-molded glass-filled nylon with an adjustable carbon fiber shade. The hood attaches to the core with two large snap hooks, which can be easily be disengaged for quick removal. The hood also features novel cutouts that decrease aerodynamic drag, while still preventing incident light from entering the matte box.
Clamp Rings adapt the BaseCamp core to a wide variety of camera lenses. Rail Mounts enable BaseCamp to be mounted to cinema rails, allowing for quick lens changes while supporting the weight of heavy cinema lens during filming. Light Fly is a silicone adapter that seals around a lens when BaseCamp is mounted to rails, sealing the gap between the core and lens barrel.